NUCOS CELLS-UP
Japanese Nucos Cells-up collagen pill

Nucos Cells Up - Produced by advanced technology from Japan. Collagen pills protect your skin from the ravages of time and rejuvenate the skin, giving the skin a smooth beauty.

Prevent aging, bring smooth, youthful skin ...

Although you have taken good care of your skin along with a proper lifestyle and diet, it cannot prevent skin aging over time. Using Japanese collagen cell up collagen as a safe and effective method of collagen supplementation.
As one of the product lines produced on modern technology lines that have undergone rigorous testing in Japan, Nucos Cells up is considered as a line of functional foods that help protect beauty effectively and safe.
Ingredients of Nucos Cells Up

Main Ingredients: Fish Low Molecular Collagen, Elastin Peptide, Coenzyme Q10, Grape Seed Extract, Royal Jelly.

The composition of Nucos Cells up completely extracted from nature is absolutely safe and does not cause side effects such as: Fish extract with low molecular weight helps provide collagen and is absorbed maximum when ingested. binds cells at the same time stimulates the metabolism to repel signs of aging, reduce wrinkles and increase skin elasticity.
Nucos cells up contains Elastin to help restore and regenerate the skin's beauty. In addition, the ingredients of Nucos cells up including royal jelly powder, Coenzyme Q10, grape seed extract ... have anti-wrinkle and aging skin effects and fade pigmentation and freckles to help strengthen immunity to help reduce the process. Effective aging and tightening pores help you get a smooth and youthful skin.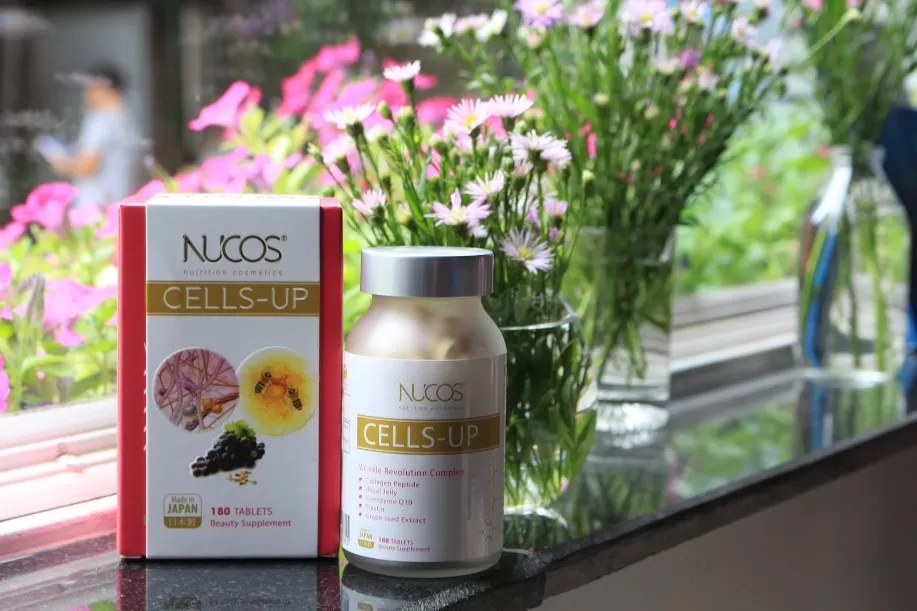 Objects of use

Use for people aged 18 years and over. Pregnant, lactating women or people taking medication should consult their doctor before use.
Not for people allergic to any of the ingredients of the product.
Dosage:

Dosage: 6 capsules / day after eating or as directed by a doctor or pharmacist.

Preservation:

Store in a cool, dry place, away from direct sunlight. Keep out of reach of CHILDREN.
* Note: The product is not a medicine, it does not replace medicine.

| | |
| --- | --- |
| Collagen peptides (nguồn gốc từ cá) | 1500 mg |
| Emulsified Coenzyme Q10 | 12 mg |
| Fish Elastin | 12 mg |
| Grape seed extract powder | 12 mg |
| Other ingredients | Sweetener (IMS965 (i)), calcium stearate, antifreeze agent (OMS551), stabilizer (INS460). |
| Royal jelly powder | 150 mg |